"ITCHY TINGLES"
Childhood in the eye of the tornado
TONY HAUSER plays Isaac Albeniz "with feeling and technical prowess"
HEIDI ARNESON's comical stories are "nothing short of astonishing"
Childhood in the eye of the tornado. Suburban Gothic comedy and Spanish classical guitar music illumine a lost lakeside filled with secret urges and lurking monsters. Storyteller Heidi Arneson and guitarist Tony Hauser reveal the myths and mayhem of midcentury suburbia as seen through the eyes of a wild-child. Music from Hauser's arrangements of the piano music of Isaac Albeniz, story from Arneson's soon-to-be-released novel,
The Chalk Canoe.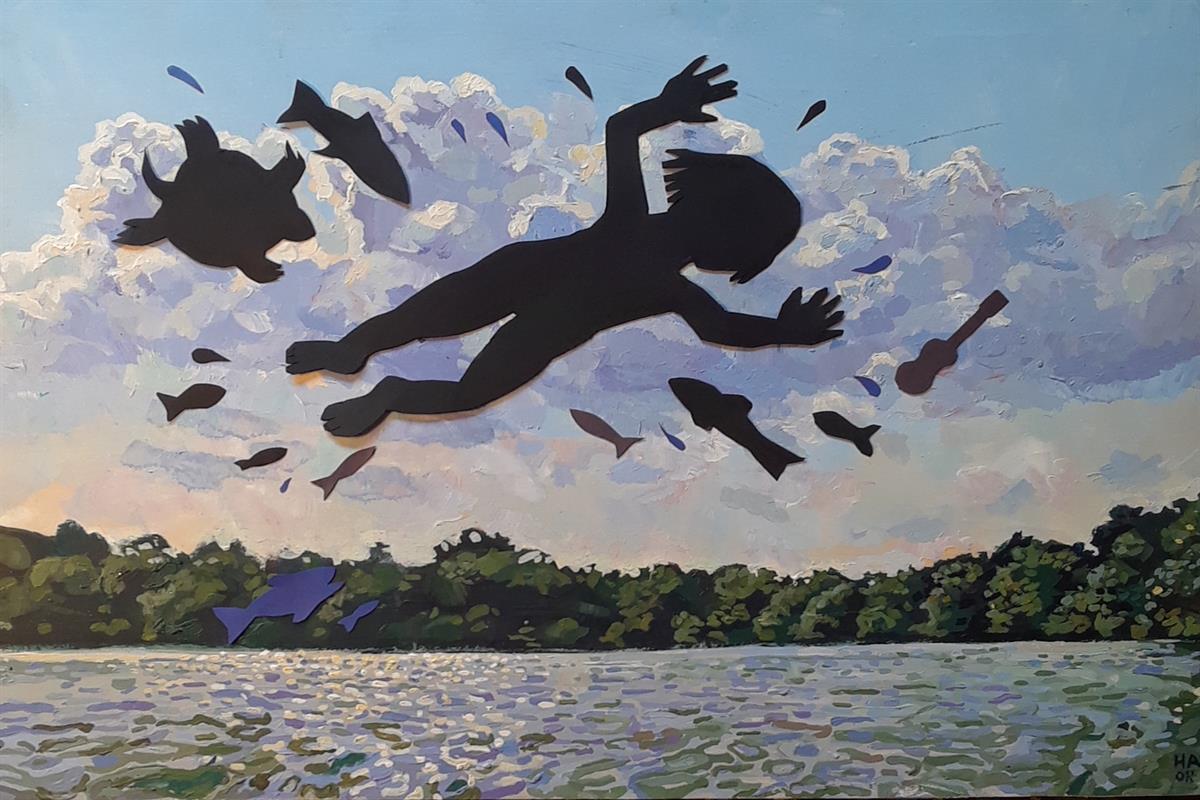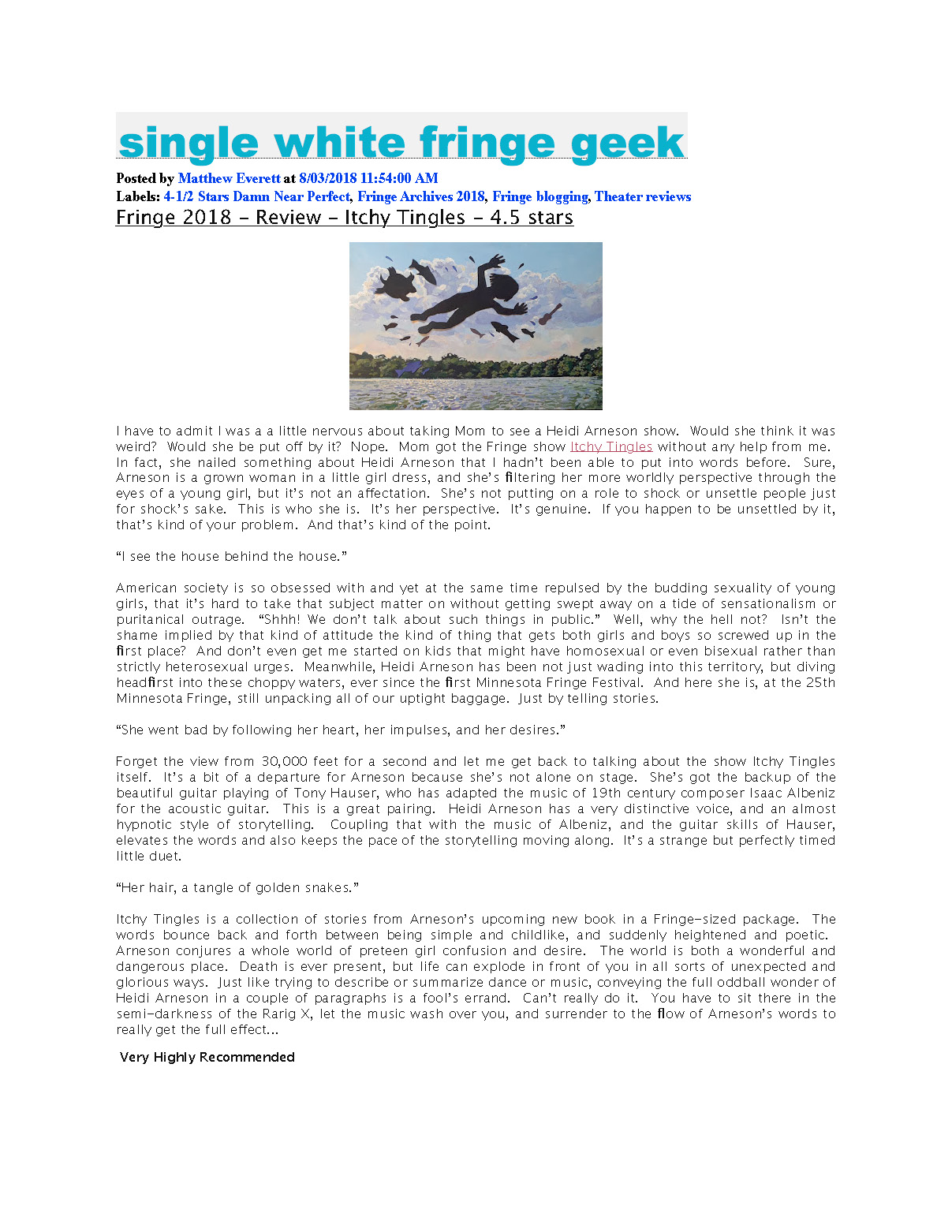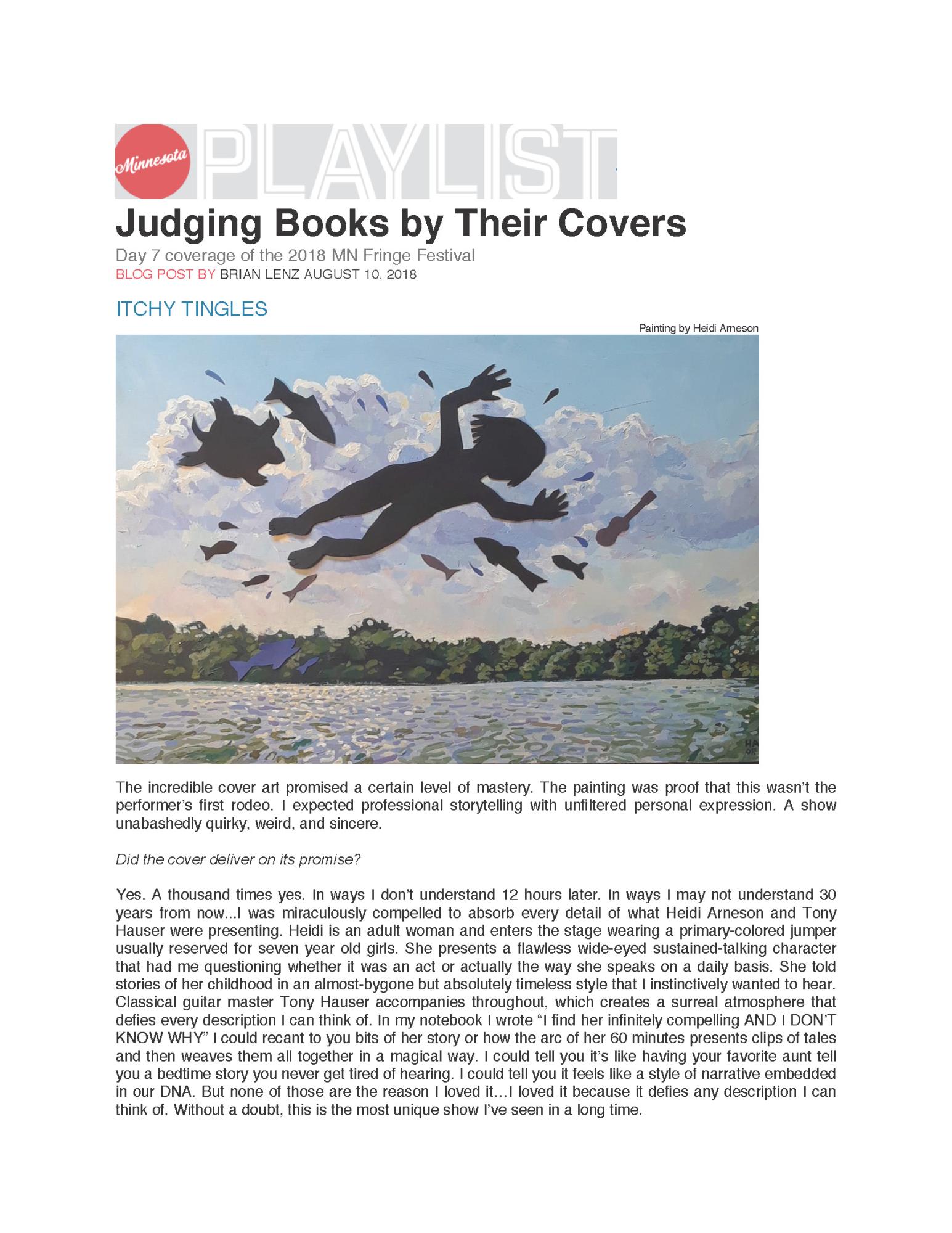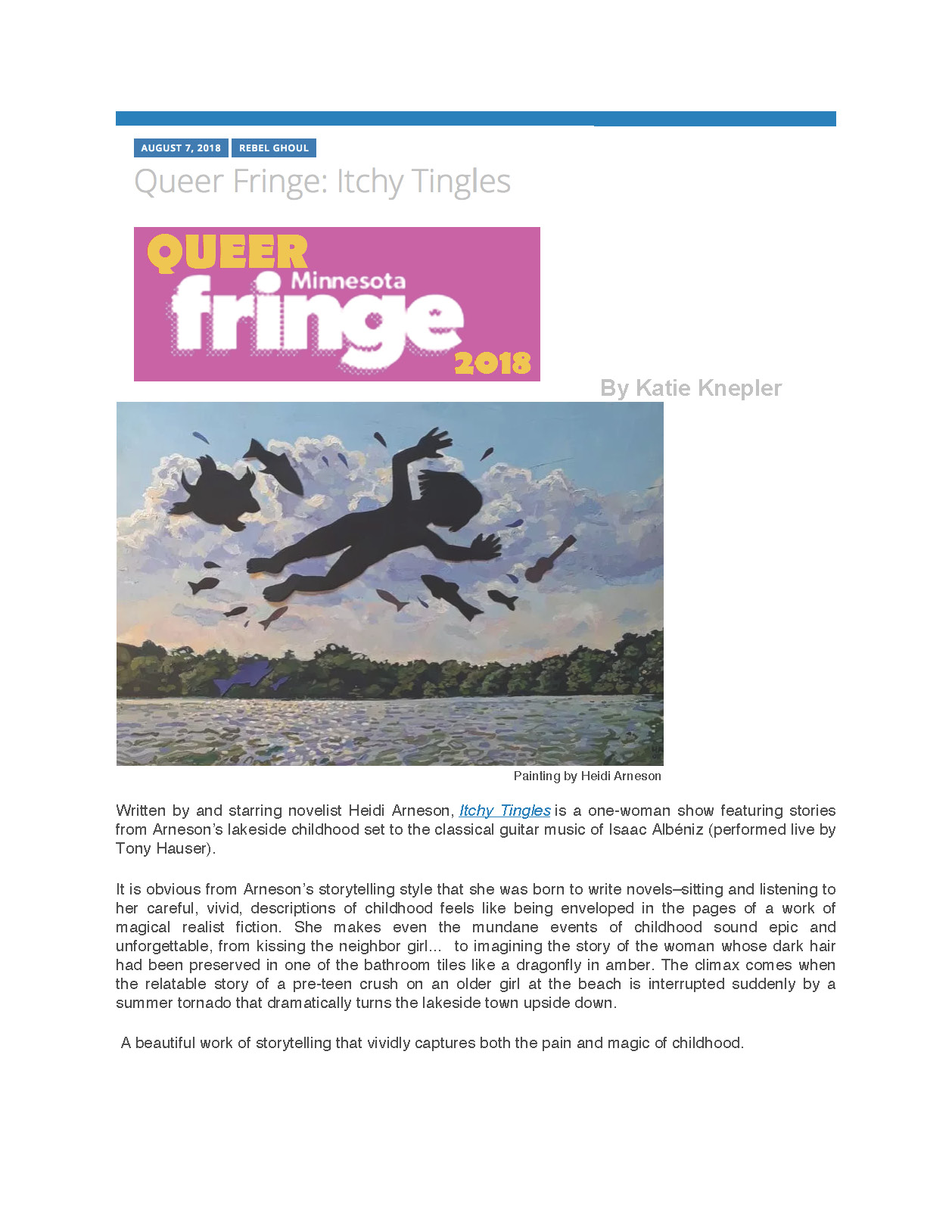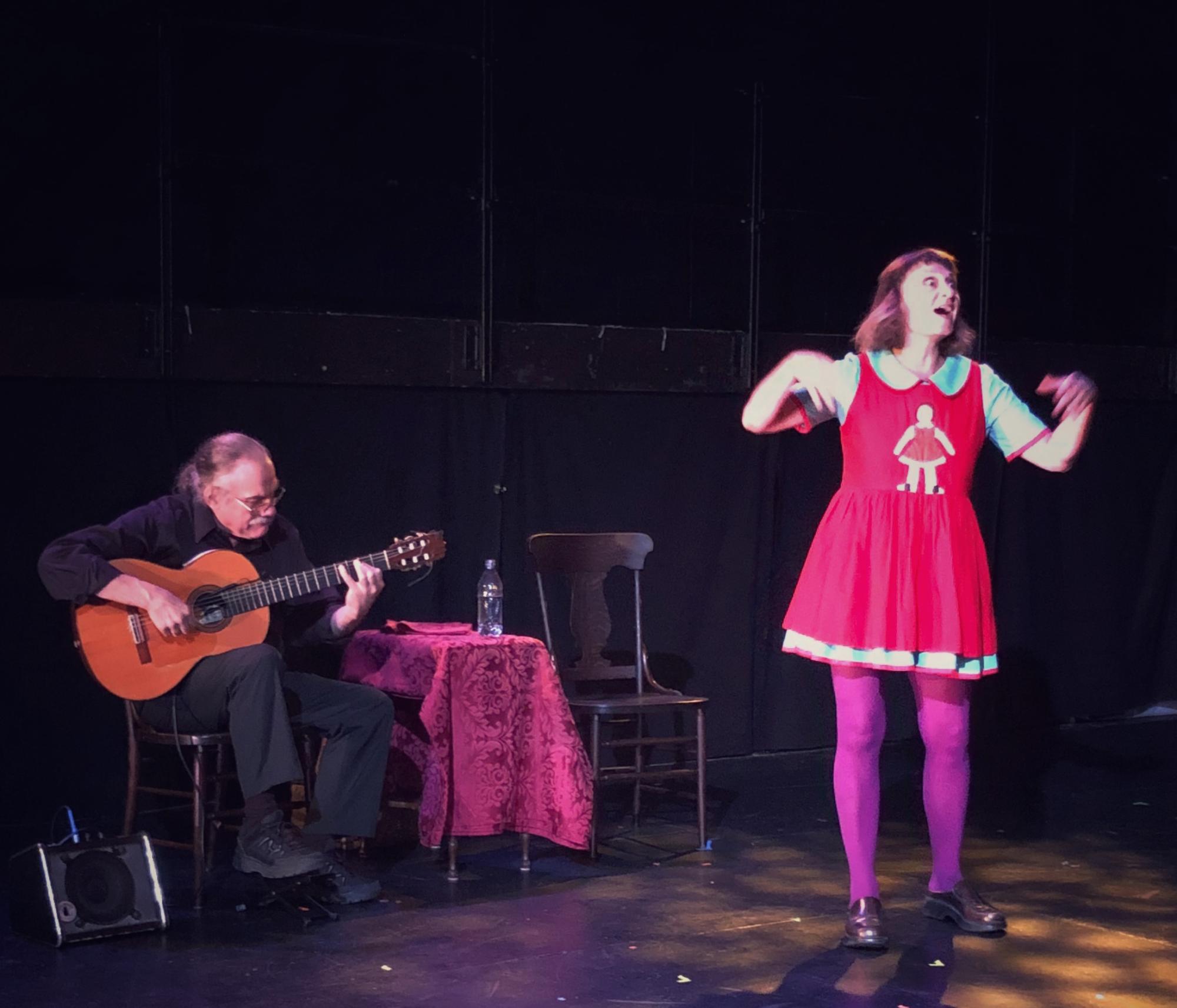 Cast and Crew
Heidi Arneson
Writer, Director, Performer
HEIDI ARNESON'S storytelling has been called "original, entertaining, and wildly unpredictable," (journalist Noel Holston) and "nothing short of astonishing" (author Jenna Zark). She trail-blazed the performance art wave with edgy comedies about girlhood, shared her skills crafting autobiographical theater with male inmates, got audience volunteers to strip naked and sing and dance about the importance of healthy soil, and risked expulsion with her first novel, Interlocking Monsters. Her awards include a Bush Artist Fellowship, a Loft/Jerome Minnesota Writer's Grant, and a Minnesota State Arts Board Artists' Initiative Grant. Her plays include BloodyMerryJammyParty, Degrade School, and The Book of We. Her second novel, The Chalk Canoe, will be released in spring of 2019. Information on her upcoming shows and book releases can be found at Heidiarneson.com
Tony Hauser
Musician, Musical Arrangements
TONY HAUSER's mastery of the guitar, (from flamenco to classical to Latin) and his 50 year concert career (including performances in remote Inuit villages, at the Kennedy Center, and for MPR's Prairie Home Companion), began as a boy of ten, when he studied with his elder brother, flamenco maestro Michael Hauser. He went on to study under Andres Segovia's protege Jesus Silva, and to finesse a wide repertoire of classical guitar music. His discography includes "Espana", "Distribution of Flowers" and "So Por Amor". His compostions, such as"Dream Cycle," and "Alegrias" have been presented nationally, at the Lexington Opera House, with Minnesota Symphonia ( Jay Fishman conducting), the Guthrie Theater and Walker Art Center. In 2017 he premiered his compositions for Arneson's play, "Book of We". Mr. Hauser teaches on the faculty of the University of St. Thomas. Upcoming shows and discography can be found at Tonyhauser.com
Isaac Albéniz
Composer
Isaac Albéniz (1860-1909) was a phenomenal child prodigy. Born in the Catalonian town of Camprodon, he began touring Spain and Cuba as an itinerant piano virtuoso in his early teens. While still in his twenties and living in Madrid, he emerged as a composer of originality and significance, creating a Spanish national style in solo work for piano. Though he spent succeeding years in London and Paris, he never lost touch with his Spanish muse. He combined Romantic harmony with native rhythm and melody, capturing the exotic allure of such peninsular locales as Granada, Seville, and Cordoba. (Liner notes by Walter Aaron Clark for Hauser's CD "España")
More Information

CHILDHOOD IN THE EYE OF THE TORNADO. Music and story overlay in a translucent reveal: Secrets of a hidden childhood. Fish-heads are nailed to the trees. A killer lurks under the muck. The lips of one girl must never touch the lips of another. But our heroine falls dangerously in love with the new girl and is cast into a maelstrom of wishes-come-true. Storyteller Heidi Arneson brings her "beautifully vivid" prose (author Jenna Zark). Classical guitarist Tony Hauser "plays with feeling and technical prowess" (Michael Anthony, Star Tribune). A midcentury summer on a midwestern lake embellished with the compositions of Spanish prodigy Isaac Albeniz.
Seen through the eyes of a kid-size strike-anywhere match, the world is full of mystery. Monsters wait around every corner. The secrets of reproduction are in unending lockboxes. The keys are hidden in every crack in the neighborhood. But beware! When you're the baby of ten in a house full of life, you better learn fast how to disappear, for death waits behind every wall, under the murky waters, and in that kitchen oven.
Arneson's opus on childhood blends gems from her acclaimed novel, Interlocking Monsters, with vignettes of her soon-to-be-released prequel, The Chalk Canoe "A magic garden of uncanniness" (journalist Jon Spayde). The union of music with text gives depth to this vision of youth through a cracked prism. Here is a land lost, where kids run naked and swim free. Siblings shoot arrows into siblings. Fathers burst with hot lava. Mothers dispense underhand wisdom. And myths of good and evil, sex and suppertime, and love and death multiply unseen in moist lakeside basements like mildew on hidden Playboy magazines.
Here are flowers waiting to be pried open. Here are oversize snapping turtles. Here is the ever-gardening neighbor with a clothesline full of square-dance petticoats. And here the moon dances, a white snake on black water. You sit in the dark grass hugging your knees. Your tongue stained with popsicle, your skin covered in mosquito bites, the air full of popping bratwurst: How much trouble you can make before winter falls?
Powerhouses Arneson and Hauser invoke the sweetness and terror of a lost childhood, fueld by the fire of Albeniz. A rare hybrid: riveting story, exquisite music, and poignant comedy. Childhood's unselfconscious rebelliousness in translucent layers, like shimmering mermaid-tails, of symbolism, celebration, and reverence.
IN COLLABORATION WITH STORYTELLER
HEIDI ARNESON--A NEW WORK OF THEATRE AND MUSIC