Guitarist Tony Hauser defies categorization. Strongly rooted in the classical tradition, his explorations of Spanish flamenco, Latin-American, ethnic and new music present the widest variety of performance. His love for the guitar was born at the age of ten when he began studying with his brother, flamenco guitarist, Michael Hauser, with whom he has concertized extensively. As a youth he established solid foundations as both a classical and flamenco guitarist studying both in Minnesota with Albert Bellson and Jeffrey Van and in Spain with the legendary flamenco guitarists Niño Ricardo and Luis Maravilla. Under the tutelage of Andres Segovia's protege, Jesus Silva, he received his Bachelor of Music degree from the North Carolina School of the Arts. Lessons and master classes with Maestro Segovia, John Williams, Abel Carlevaro and Cuban composer-guitarist Leo Brouwer followed. He has taught at Viterbo College in La Crosse WI and was the Director of the Guild of Performing Arts Music School in Minneapolis. Currently he serves on the faculty of the University of St. Thomas in St. Paul, MN
Tony Hauser's concert career spans over forty years with hundreds of performances in communities and colleges throughout North America. He has toured with the legendary jazz guitarist Charlie Byrd and leads a band called "The Brasilnutz" that specializes in authentic performances of a variety of Brazilian musical styles not often heard in the U.S. His music has been broadcast on National Public Radio and Garrison Keillor's "A Prairie Home Companion". He also has won the Minnesota Music Award for Guitarists and is the founder of the Minnesota Guitar Society. Mr. Hauser was nominated by Senator Rod Grams to represent the state of Minnesota with performances at Kennedy Center and on the Capitol grounds in Washington D.C.
Tony Hauser's discography includes "Circulo Magico" and "Distribution of Flowers" with Brazilian recorder virtuosa Cléa Galhano, and a recording of Russian Gypsy music with the singer, Sergei Pobedinski, entitled "Gentlemen Gypsies". He has released on his own label—Blue Gentian Records, numerous titles including "So Por Amor", a tribute album with the Brasilnutz of the music of Brazilian guitarist-composer, Baden Powell, and two solo discs entitled "Hauling it All" and "The Living Room Tapes. He plans to release an all original flamenco disc with guest artists, guitarist Pedro Cortes and flamenco singer Jesus Montoya" and an album of his arrangements of the music of Isaac Albeniz.
Although not generally known for being a composer his original score"Dream Cycle" for the Nancy Hauser Dance Co. (modern dance) was performed at the Guthrie Theatre, Walker Art Center ,the Opera House in Lexington, Kentucky and throughout the Midwest. In 1993 a four movement work for guitar and percussion was presented in Philadelphia, Pennsylvania by modern dancer Dale Schmid. He has composed solo guitar and flute and guitar duets in a modern classical style and numerous flamenco works for guitar with bass, percussion winds and vibraphone. In 2015 he performed the premiere of his "Concerto for Flamenco Guitar and Chamber Orchestra" entitled "Alegrias" with the MN Sinfonia conducted by Jay Fishman. In 2017 he composed the music for "The Book of We" a theatrical production by actress-playwright Heidi Arneson. He also released "España" new arrangements from the piano music of Isaac Albéniz.
He has premiered compositions by Lee Hoiby, Mikis Theodorakis, Patrick Byers, Lawrence Ward, Bill Buchen and other contemporary composers. His numerous arrangements incude over 50 works by Brazilian composers for small ensemble, works by pianists Isaac Albeniz and Enrique Granados, violin suites by Bach, renaissance lute works and more.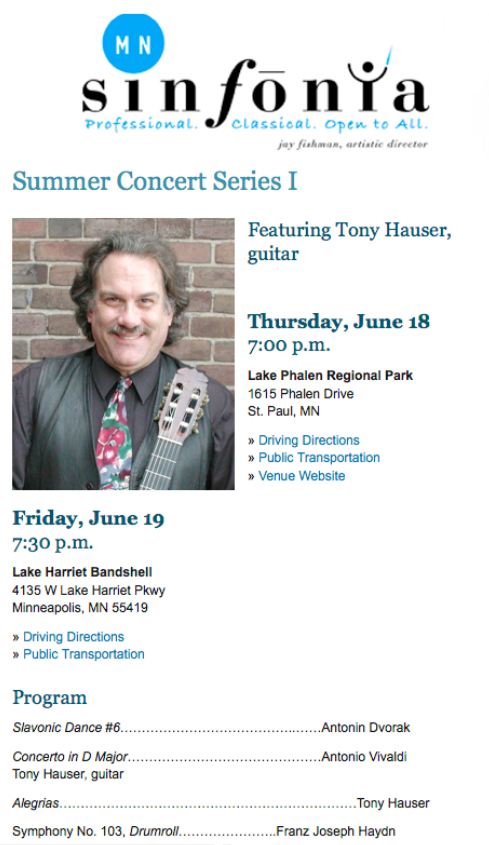 "More than a few guitarists have made transcriptions of these pieces (Albeniz and Granados), though none that I have heard have done so with any more skill and idiomatic understanding than has Hauser. Even when they are as difficult as the Granados "Poetic Waltzes" Hauser plays them with feeling and technical prowess." --Michael Anthony--Minneapolis Star-Tribune